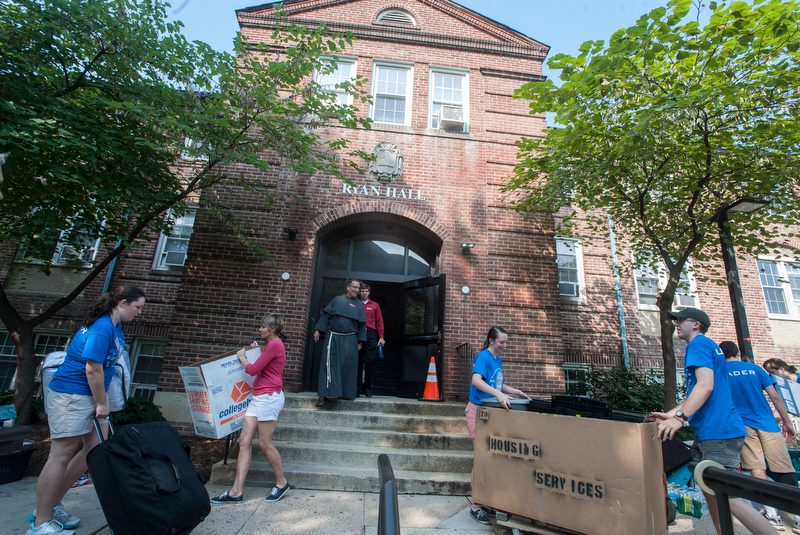 Housing Services recognizes students may have extenuating circumstances in which a request to remain  to on-campus housing outside of the occupancy dates could be needed.  While individual requests outside of normal occupancy dates are not always approved, Housing Services will review each request submitted by the established deadlines. 
The residence halls will close on Sunday, May 9, 2021, at 12:00 p.m. EST.  All residential students need to make the appropriate travel arrangements. 
Expectations
Services including, but not limited to, regular custodial services, dining services, residence hall offices, and mail delivery may not be available during periods outside the contract period. Students who are permitted to reside on-campus outside of the occupancy dates should also be aware that work being done in the facilities may create temporary inconveniences. Students permitted on-campus may not allow others who have not been previously authorized, including guests and roommate(s), to occupy residence hall space. Unapproved individuals will be asked to leave the building and may be billed for dates in residence. All policies and procedures are applicable during times outside of the regular contract period.
Cost
Students who receive approval (i.e. who are not endorsed by a faculty or staff member to participate in an authorized University-function) will be charged for the additional nights on campus.  The charge will be added to their student account for the corresponding semester.
| | |
| --- | --- |
| Room Type | Nightly Cost |
| Gibbons, Regan, Ryan, Caldwell, Seton | $43.00 |
| Centennial Village, Opus, Millennium North | $44.50 |
Late Stay Request Process
If a student is participating in a University approved function, a request from a University staff or faculty member is required for consideration. Please have the appropriate faculty or staff member email the request to cua-housing@cua.edu.  Students do not need to submit individual requests if their reason for late stay/early arrival approval is being submitted by a faculty or staff member.  Housing Services will notify the student if a request has been submitted on their behalf by a University faculty or staff member.   
For the following reasons, please submit an individual request for consideration. Students who submit an individual request are subject to the nightly room rate.  Submitting a request does not guarantee approval. 
Travel Conflicts - For students traveling internationally, or long-distance domestically. Charges are assessed on a per-night basis accordingly. Requests due to a cost difference in travel arrangements is not always approved. 
Sibling of a Graduating Senior - For graduating students with a sibling who also lives on-campus. 
ROTC/NROTC - For students in Reserve Officers' Training Corps. Please note that confirmation from a supervisor will be required. 
Other - For reasons other than those listed above, the student must be able to demonstrate that a significant reason requires an alternative arrival or departure date. Charges are assessed on a per-night basis.