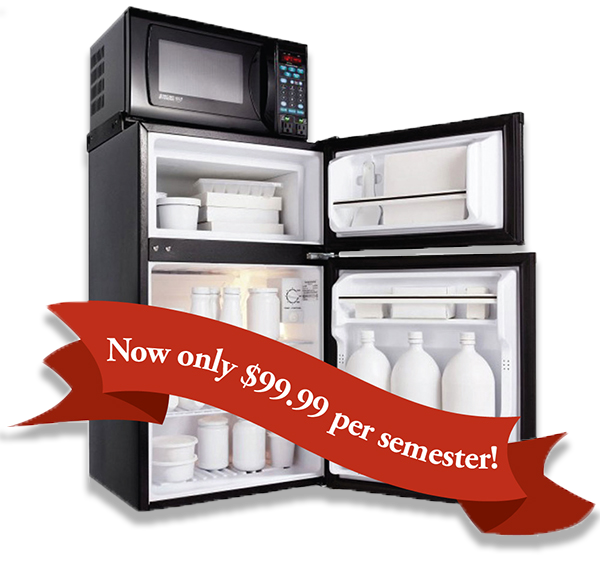 Our MiniFridge rental program is the most convenient and cost effective way to safely store perishable food items in your room. Featuring:
Delivery and pickup directly to/from room
Off-campus delivery available
Daily, weekly, or semester rentals
24-hour replacement
MiniFridge units are available to Catholic University students, interns, conference guests, and other guests of the University year round.  For terms and conditions, please see the Rental Agreement.  
We are currently no longer accepting rental requests for the Spring 2022 semester.  We apologize for the inconvenience.  

Frequently Asked Questions
Does the MiniFridge come with a microwave?

Yes, the MiniFridge has a microwave attached on top of the refrigerator and freezer. It is a 3-in-1 appliance with one-plug technology.

When may I place an order?

We are currently no longer accepting rental requests for the Fall 2021 semester.  We apologize for the inconvenience.

What are the delivery and pickup dates?

Delivery in most instances will be prior to arrival on-campus. We guarantee delivery within the first 2 weeks of the semester or stay. If rental spans multiple semesters, pickup will be the final semester. The MiniFridge must remain in room over University breaks.  

What preparation is required prior to pickup of my MiniFridge?

1. Fully defrost your MiniFridge. Please unplug the unit two days prior to pickup. Do not use any sharp objects to defrost the unit.

2. Clean and dry your MiniFridge. This includes seals and inside/outside surfaces of the refrigerator, freezer and microwave. There will be water in the freezer area after defrosting. Please dry completely.

3. Make sure your MiniFridge has all of its parts, including top and bottom shelf in refrigerator, ice tray, glass microwave plate and microwave ring.

4. Leave refrigerator and freezer doors open.

Can I have an extension on the pickup date?

Extensions may be granted on an individual basis. Should you wish to submit an extension request, please email CUA-housing@cua.edu as soon as possible.

What happens to my rental if I change rooms during the semester?

Housing Services will relocate the MiniFridge at no additional charge.

Can both my roommate(s) and I rent MiniFridges?

What is the return policy?

What if my MiniFridge rental stops working?

First, check to make sure all plugs are plugged in. If this does not solve the problem, please submit a repair request here. Housing Services will repair or replace your MiniFridge within 24 hours Monday - Friday.

What is the size of the MiniFridge?

3.1 cu. ft. (87 liters) capacity (1811/16 in. x 4312/16 in. x 1911/16 in.). The microwave is 0.7 cu. ft. (20 liters) capacity.

What color is the MiniFridge?
For additional information or questions please email us at CUA-housing@cua.edu.